Biting Flying Insects Ruining Your Time Outdoors?  You'll Throw Away The Bug Spray When You Discover:
This Portable Bug-Busting Bulb Zaps Swarms Of Nasty Flying Insects Without Toxic Chemicals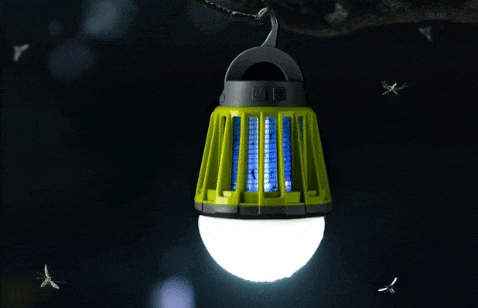 There is nothing worse than stepping into the great outdoors... Only to have your day ruined by dark clouds of flying pests. Especially when these nasty winged creatures:
‍
❌ Infest your food or land in your drinks 🤢
❌ Sneak inside your place & disturb your sleep 😡
❌ Get trapped in your hair and bite exposed skin 😩

Now there is an easy way to keep bugs at bay and prevent nasty bites without chemical sprays or toxic skin lotions.

The BugBulb™  attracts nasty flies and flying insects up to 16 feet away and kills them dead.

INTRODUCING: The Bug Bulb by Boundery, which protects you and your family from insect bites without the use of chemicals. Best of all, it's safe to use around children and pets.
✅  Effective Bug Repellent, USB Rechargeable, Wall Charger Included
✅  Perfect for Camping and Outdoor Activities, Each Bulb Provides a 16' x 16' Bug-free Zone

✅  Ultra-Bright, 1-Watt, 6000K, Bright White, LED Lantern Protected by a Super Soft, Shatter-Resistant Cover

✅  20 Hours of Battery Life in Lantern Mode When Fully Charged and

✅  15 Hours of Battery Life in  Zapping Mode

✅  2000 mAH Rechargeable Built-in Battery Provides Long Lasting Power

✅  Zapper Function Utilizes a 360nm-400nm Built-In Ultraviolet Light

✅  Waterproof - Simply Clean Under Running Water
Anyone who enjoys spending time outdoors needs to get the  BugBulb to protect their family and eliminate flying insects before they bite anyone and potentially spread their nasty diseases- all without the hassles and risks of chemical sprays or candles. 


Just look at all the places you need to have the Bug Bulb:
Patio, Camping, Picnic, Boating, Bedroom, Hiking, BBQ, Block Party, Travelling...


...or just keep it in the car to be prepared whenever you need it!


It doesn't get any easier or safer to protect your family, home, pets, and friends from miserable flying insects with the Bug Bulb and prevent the spread of these nasty viruses: 

Hives, Swelling, Allergic Shock, Bruising, Itching


Get the easiest bug defense system available that is cost effective, easy to set up, and causes no harm to children, pets, or seniors.
VERY HIGH DEMAND. NOT SOLD IN STORES
🌎
 

Worldwide Shipping

 

✈
---
We offer worldwide shipping from our international partners!
🔒
 

100% Risk-Free Purchase

 

🔥
---
We always strive to leave our customers 100% happy after their purchase - If you have any issues, you can always contact our 24/7 support team at support@planetshopper.co


Our Guarantee - Didn't receive your item or the item was damaged? Maybe it didn't meet your expectation? We will replace or refund you! Please read our FAQ PAGE for more information.
Buy with confidence - Don't like what you've received? No worries! You can return any unused product 30 days after arrival for a full refund.
EASY & SECURE CHECKOUT
SSL Secure Checkout - We are using SSL technology so you can have your peace of mind while shopping.
Easy Payments - You can pay with your Paypal account, or with your Credit Card, Master Card or American Express.
Click on "ADD TO CART" to get yours now!