*60% OFF FOR A LIMITED TIME ONLY*
✈
FREE SHIPPING 
WORLDWIDE
NOT AVAILABLE IN STORES!
"Peek-a-boo, I see you!" Press his foot and our sweet honey brown bear engages baby in a lively game of peek-a-boo. He moves his furry arms up and down, covering and uncovering his face with his little blanket.
Keep your child entertained for hours with this cute peek-a-boo teddy bear! It can play peek-a-boo with your child for hours and really knows the way into your family's heart.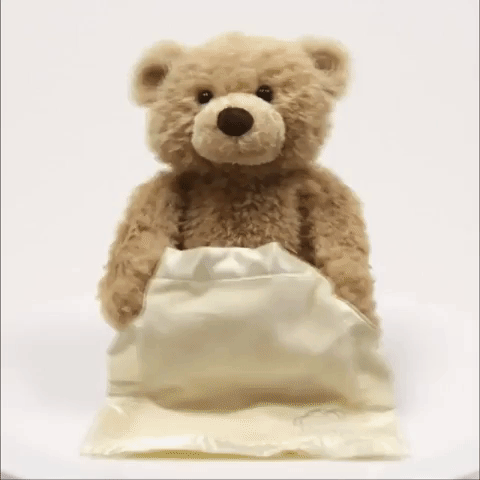 It features a move-able mouth and arms. At the push of a button, the bear recites one of six different phrases and hides behind the blanket before popping back out to delight baby with an interactive game of peek-a-boo.
Bear sayings include: "Hi Baby, Peek-a-boo is the most fun with you", "Where did you go?", "Peek-a-boo I found you", "Hi sweetie Pie", "Where did you go", "Here I am", "Hello Baby", "Again again", "Let's keep playing".
High quality plush material
Extra soft and fluffy
Cute sound plays when turned on
Keep your child entertained for hours!

11.5 inch height (29 cm)

Surface-washable
GRAB ONE NOW AT 50% OFF AND FREE WORLDWIDE SHIPPING!!! (No sales tax)
OUR GUARANTEE
We ensure your 100% satisfaction with our money back guarantee. If for ANY reason you are not happy with our product, simply return it for a full refund. Your purchase is safe and protected with us.
*Due to overwhelming demand, please allow 2-3 weeks for shipping, handling and delivery directly from manufacturer or our international warehouse.